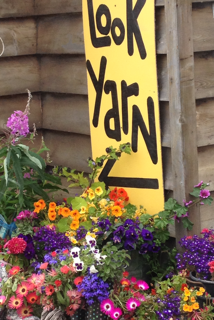 Even though the shop Knitty Stash is now closed, Jules and Ruby are still busy dyeing yarn as the Alaskan Yarn Co. and periodically hold local retail events in and around Homer.  Look for the LOOK YARN sign!!
Alaskan Yarn Co. yarns are now available at Ptarmigan Arts Gallery every day! 471 E. Pioneer Ave. in Homer
Call or check Facebook/Instagram for current information!
The Beginning:
Company co-founder Jules Joy learned to knit as a child but the obsession didn't hit until her adult years when she learned to knit socks: now her world is all things fiber. She knits, crochets, felts, dyes and spins. The endless variety, texture and color of fibers make her heart sing! She is currently on a quest to spin as many different animal fibers as she can.
Knitty Stash was born in 2009 but the seed was planted much earlier when Jules Joy moved to Homer and discovered there was no Local Yarn Store.
She and her friend Sarah Browngoetz started their fiber adventures in a 16′ yurt, quickly outgrew two more sizes, and the shop resided in a lovely historic house in Homer until February of 2018.
The Alaskan Yarn Company houses the hand-dyeing part of the adventure and began sometime around 2011 with an idea for the Alaskan Colors Collection in response to visitors' requests for local yarn.  Jules designs and dyes these colors right here in Homer, and now her yarns are found in local yarn shops all around the state.
Jules shares her life with her daughter Analise, a large cast of friends and adventuresome spirits, Chummy the cat and Ruby the shop dog (and yes, she is collecting that lovely brown dog fur for future spinning!)